Teams is a chat-based collaborative conversation-focused workspace hosted on Office 365.  Think Slack for Office 365! It includes a suite of apps used to access the workspace from your phone, desktop, or via a web browser.
You can use Teams to collaborate in useful ways:
Company Initiatives
Project teams
Departmental groups
Teams even includes a project management tool for planning tasks.
Where is Teams hosted?
Teams is hosted in its own Site collection automatically provisioned on Office 365.
Each Team includes:
Office 365 Group – which becomes visible in Outlook
File storage – in a SharePoint document library
Shared Calendar – the team calendar
Shared Exchange Email address – group emails
Shared OneNote – for capturing notes
Planner – for project planning
Groups vs Teams
The list above mentions Groups – so you may be wondering, "What's the difference between a Group and a Team?"
Short Answer: A Team is part of an Office 365 Group. See the Microsoft diagram below. The last vertical blue bar "Teams" is one of the pillars that make up an Office 365 Group. So teams is really just part of a larger suite of technology.  My advice to end-users is not to worry about Groups and focus on Teams.  Groups works seamlessly to integrate Outlook, OneDrive, OneNote, Calendar, Skype, Dynamics CRM, Delve, Yammer and Teams. So think "Teams" and let "Groups" do the rest.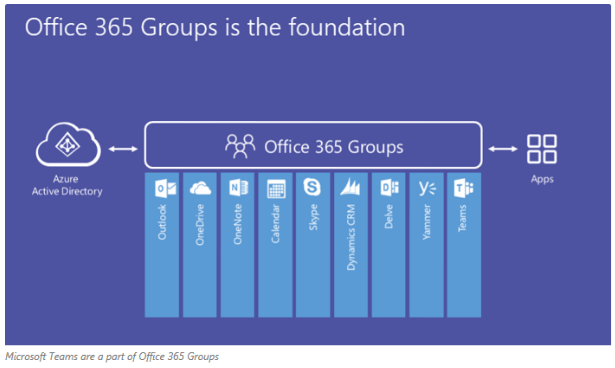 Starting Conversations
Teams is a great way for people to get organised and start conversations. It's useful for creating and sharing digital content without being locked into a particular way of doing something.  It's great for getting feedback on an idea or collaborating on a mini-project. And it's very flexible.
To get started, in the Wiki tab, call out to people in your content by clicking the chat icon when you see it – usually in the right menu – type the @ character followed by the person's name, start a conversation.
Another way to start a conversation at a higher level is to use the Conversations tab in the channel.  This conversation applies to the whole channel.
Teams is all about starting (and continuing!) conversations.
Channels
Channels organise the topics for conversations for the Team. Channels appear under the Team icons in the left navigation.
For examples, if the Team is called "Architects", then the topics might be:

RAID Log
Meetings
Road maps
Reports
For another Team, say "Delivery", the topics might be:

Stand-up notes
Projects
Team Blog
Tabs
Tabs help organise Channels. They're similar to section tabs in OneNote. Each Channel by default has a Conversations tab, Files tab, and a Wiki tab. Unlike OneNote, Team tabs can hold other interactive media such as PowerPoint, Excel, or Trello tabs – even OneNote tabs.
Add Tabs using the + button next to the Wiki.

For you SharePoint folk – this is what a Teams Wiki tab looks like in SharePoint. It's a list made up of wiki, page, and section items:
Wikis
Wiki's are used to help capture and structure corporate tacit knowledge. In Team's Wiki's are divided into pages and sections.
Pages
Pages are added by clicking the icon in the top left under conversations. Pages allow you to organise content in the channel.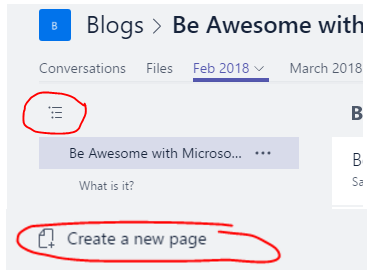 Sections
Add Sections to pages using the "add section" plus button, hover the mouse below the previous section or in-between existing sections.

Sections appear like a table of contents for each page in each wiki.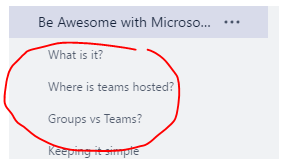 Individual sections can have their own conversation threads.  This is important and a key feature of Teams. We all have little time these days for reading everything – so focusing on sections of content is useful.
Conversations
The conversations icon on the right of each section is used to start a conversation or call-out to an @ mentioned user.

For example, click the conversation icon to the right, notice that a conversation panel opens – start a conversation for this section of the wiki – this is similar to comments in Word – but more "conversation focused".
Communication is the key to good Teams.
It's important attract attention when you are having a conversation.  Always include people with the @ call-out to get specific attention. Otherwise you will likely be having a conversation with yourself!
Polly
Add Polly as a tab and ask a group of people a multiple choice question.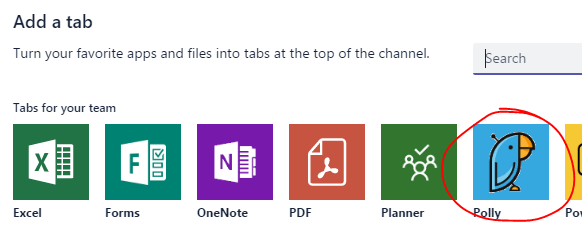 1) Add list of people using "@ name" you want to poll
2) Add @Polly
3) Ask your question (followed by a question mark)
4) Add the choices (separated by commas)
5) Hit Enter and wait for the answers to arrive…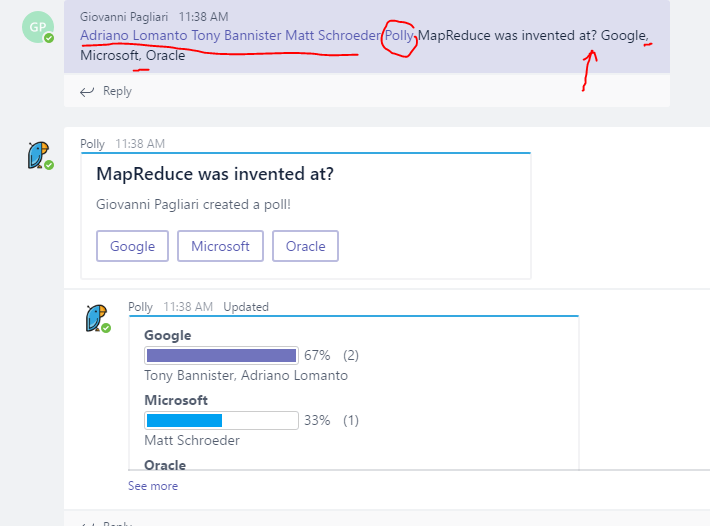 Planning in Teams
The Planner in Teams – added as a Tab – or found in the left-most navigation menu under the ellipsis button – lets Teams achieve more.  It is good for ad hoc unplanned tasks and useful for management to plan things.
Closing thoughts
If you're ready to enable more effective communication, organisation and planning, install the Teams app on your desktop and phone. As you can see it's really easy to get started! Teams is awesome.
Let us know how you get on in the comments below.